The extensive capabilities of August Bio's onsite cGMP analytical laboratories include
performing all requisite tests to measure both drug substance and drug product
quality for sterile injectables, semi-solids and non-sterile liquid products.
 The goal of the August Bio team is to deliver the testing methods, execution,
data, and insights to support CMC submission readiness. A clear differentiator is
our Mass Spectrometry expertise and Extractables and Leachables programs.
Follow a manual added link
Analytical Method Development, Validation and Testing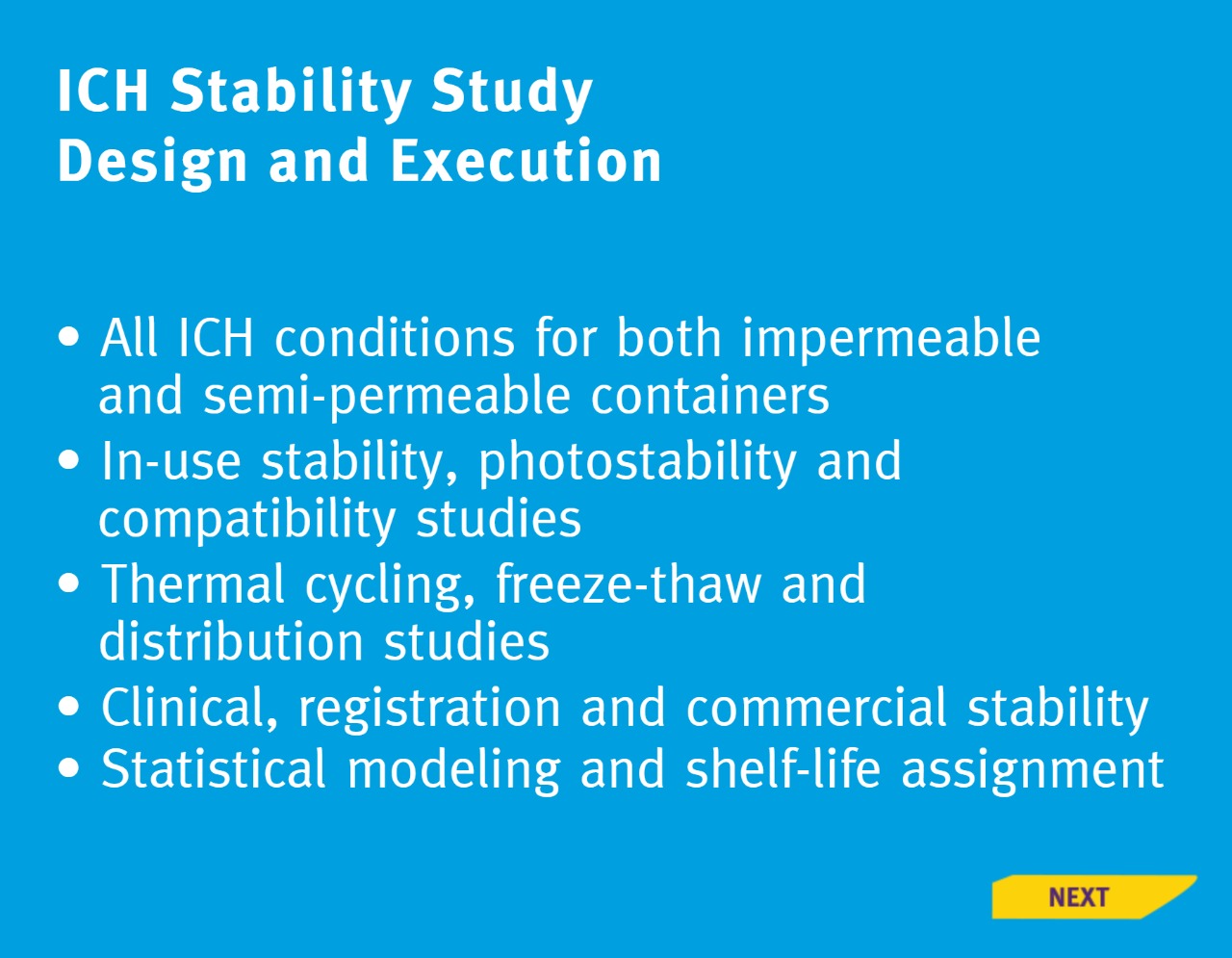 • All ICH conditions for both impermeable

• In-use stability, photostability and

• Thermal cycling, freeze-thaw and

• Clinical, registration and commercial stability
• Statistical modeling and shelf-life assignment
and semi-permeable containers

compatibility studies

distribution studies
ICH Stability Study
Design and Execution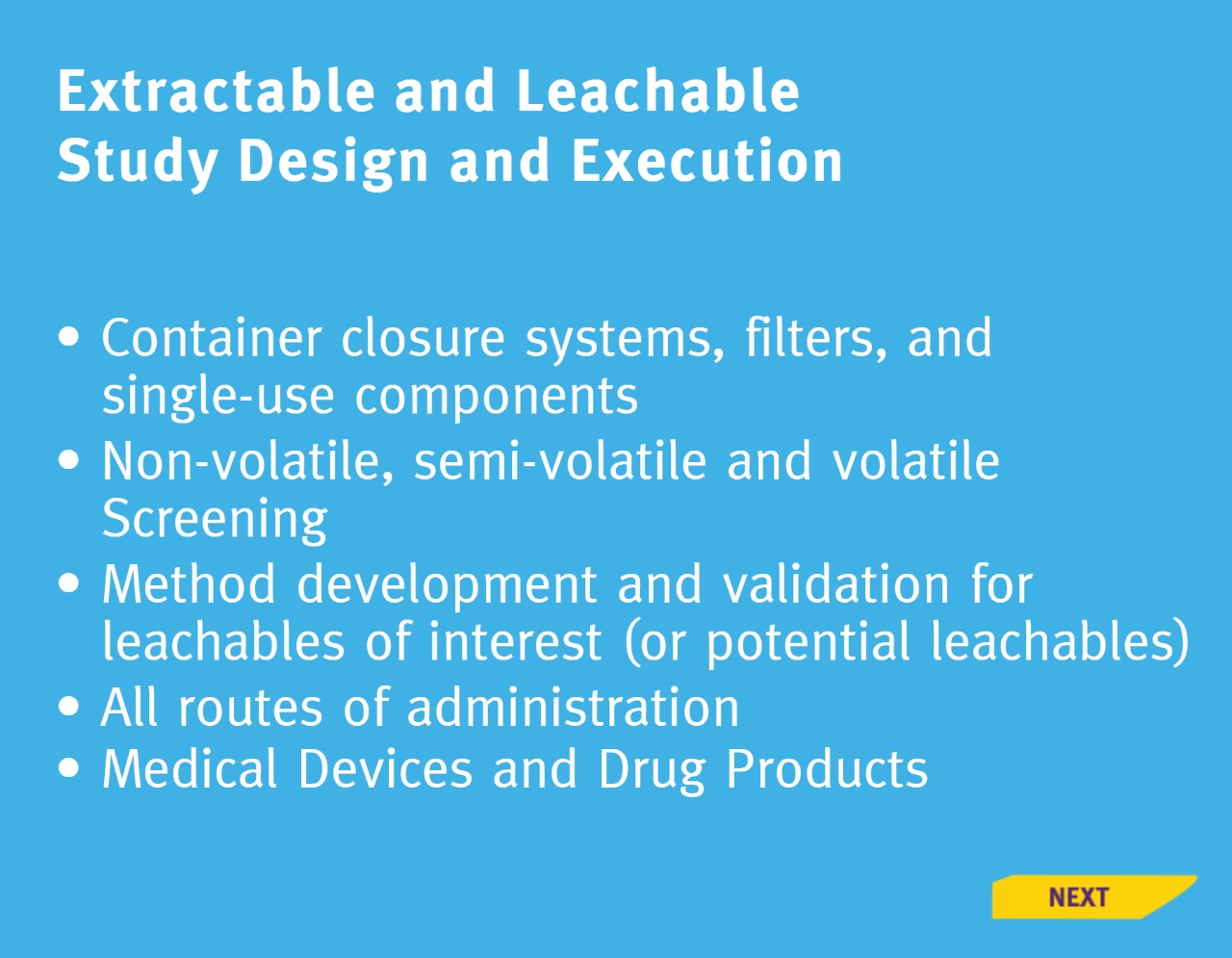 • Container closure systems, filters, and

• Non-volatile, semi-volatile and volatile

• Method development and validation for

• All routes of administration
• Medical Devices and Drug Products
single-use components

Screening

leachables of interest (or potential leachables)
Extractable and Leachable
Study Design and Execution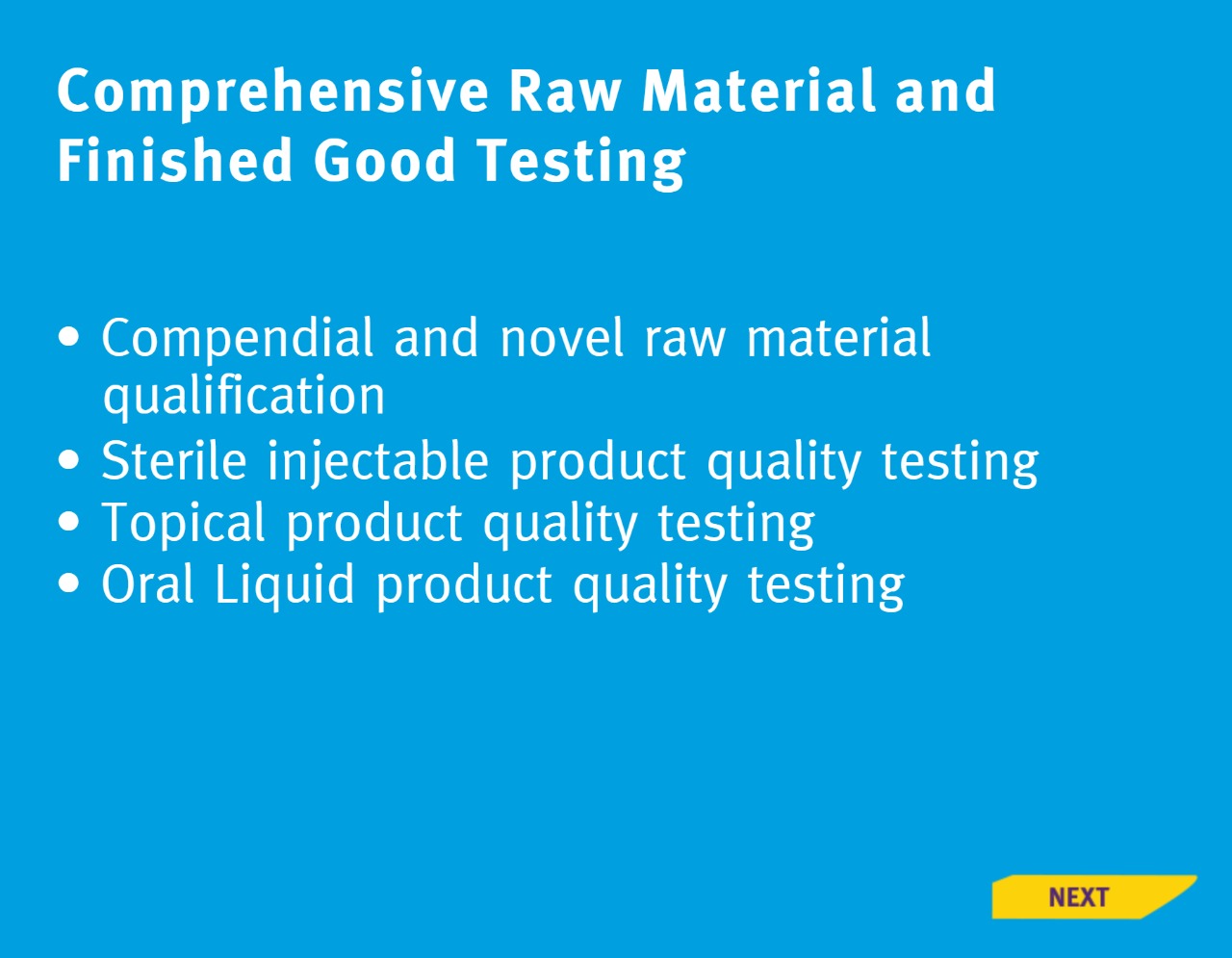 • Compendial and novel raw material

• Sterile injectable product quality testing
• Topical product quality testing
• Oral Liquid product quality testing
qualification
Comprehensive Raw Material and
Finished Good Testing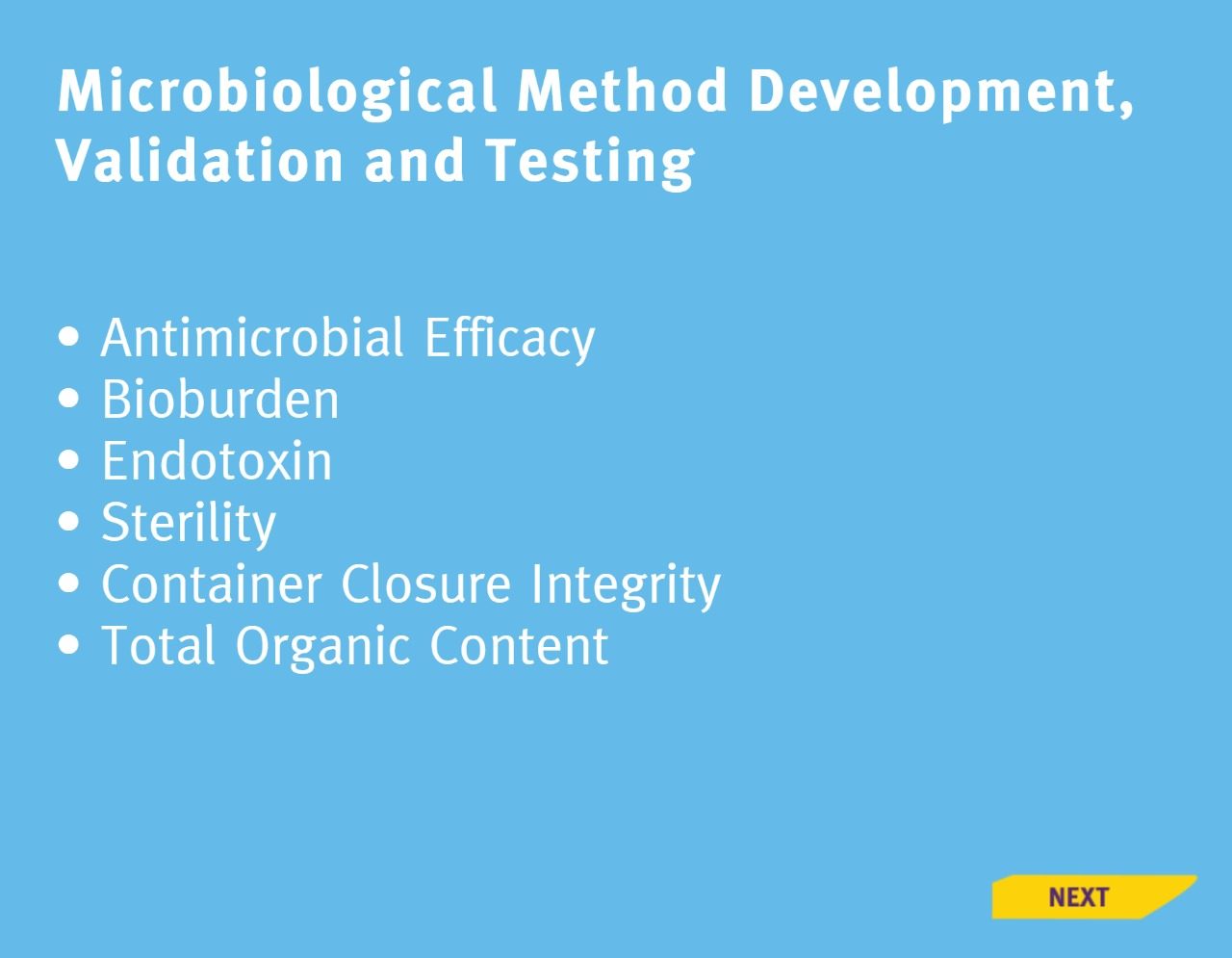 • Antimicrobial Efficacy
• Bioburden
• Endotoxin
• Sterility
• Container Closure Integrity
• Total Organic Content
Microbiological Method Development,
Validation and Testing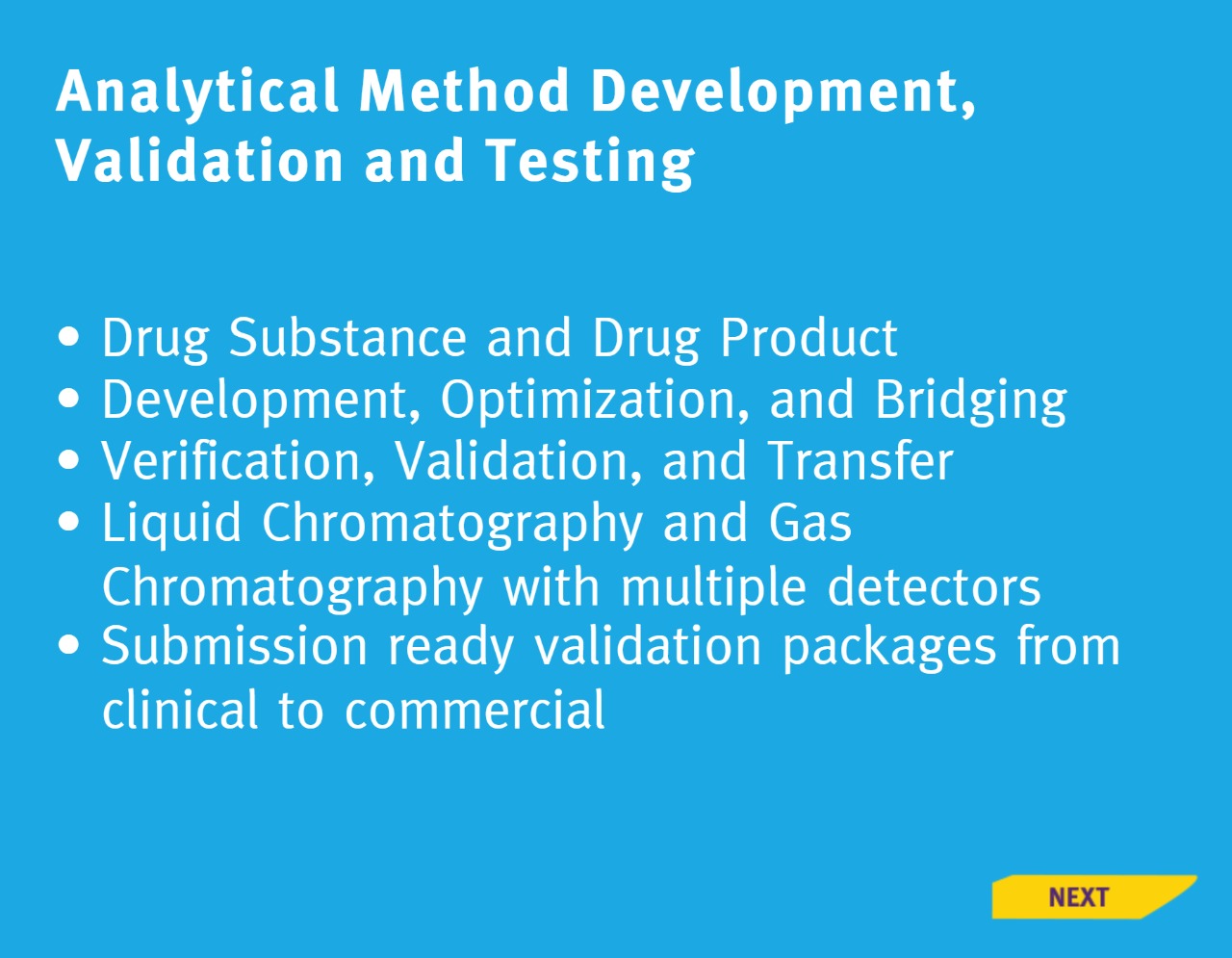 • Drug Substance and Drug Product
• Development, Optimization, and Bridging
• Verification, Validation, and Transfer
• Liquid Chromatography and Gas

• Submission ready validation packages from
Chromatography with multiple detectors

clinical to commercial
Analytical Method Development,
Validation and Testing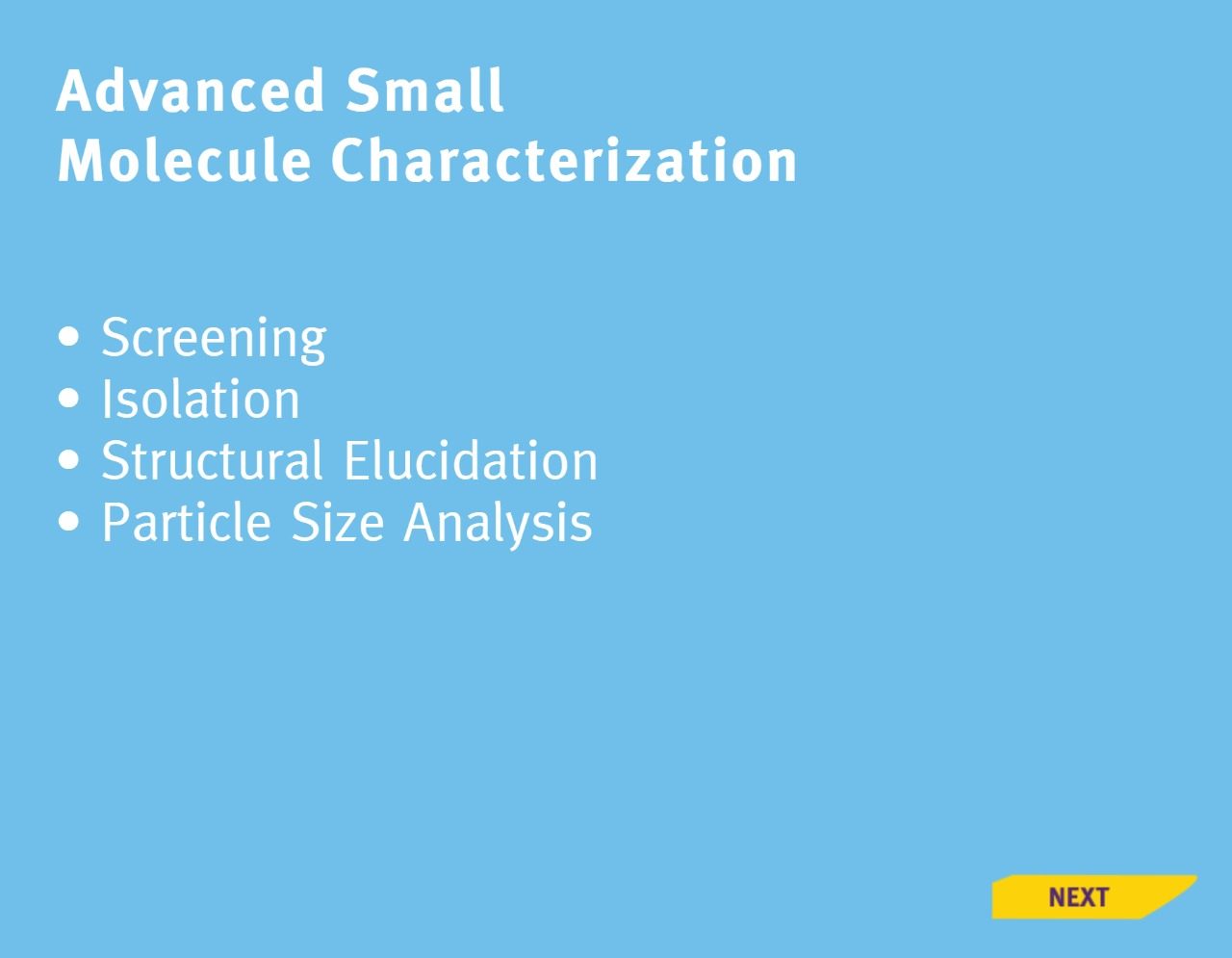 • Screening
• Isolation
• Structural Elucidation
• Particle Size Analysis
Advanced Small
Molecule Characterization
Follow a manual added link
Advanced Small Molecule Characterization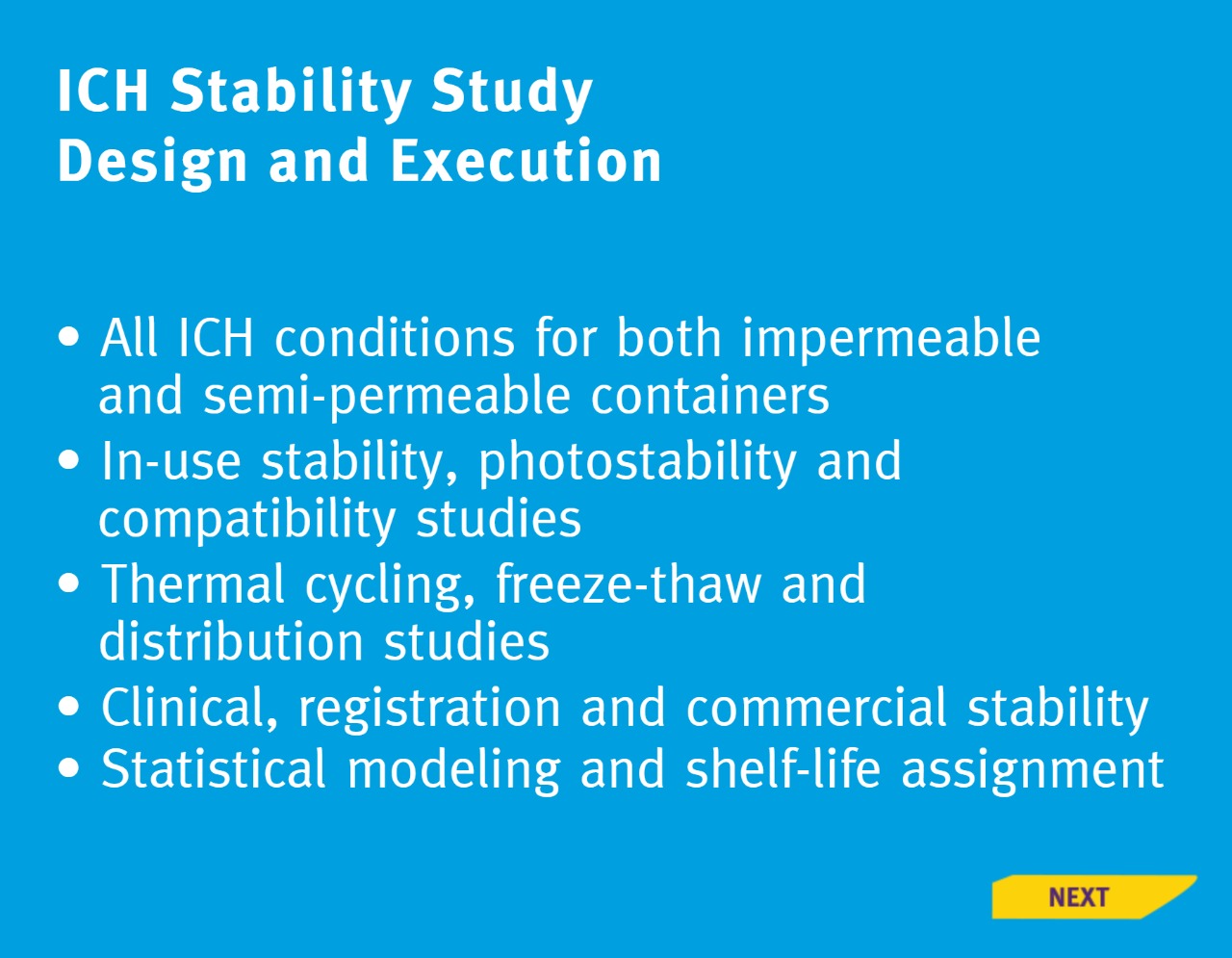 • All ICH conditions for both impermeable

• In-use stability, photostability and

• Thermal cycling, freeze-thaw and

• Clinical, registration and commercial stability
• Statistical modeling and shelf-life assignment
and semi-permeable containers

compatibility studies

distribution studies
ICH Stability Study
Design and Execution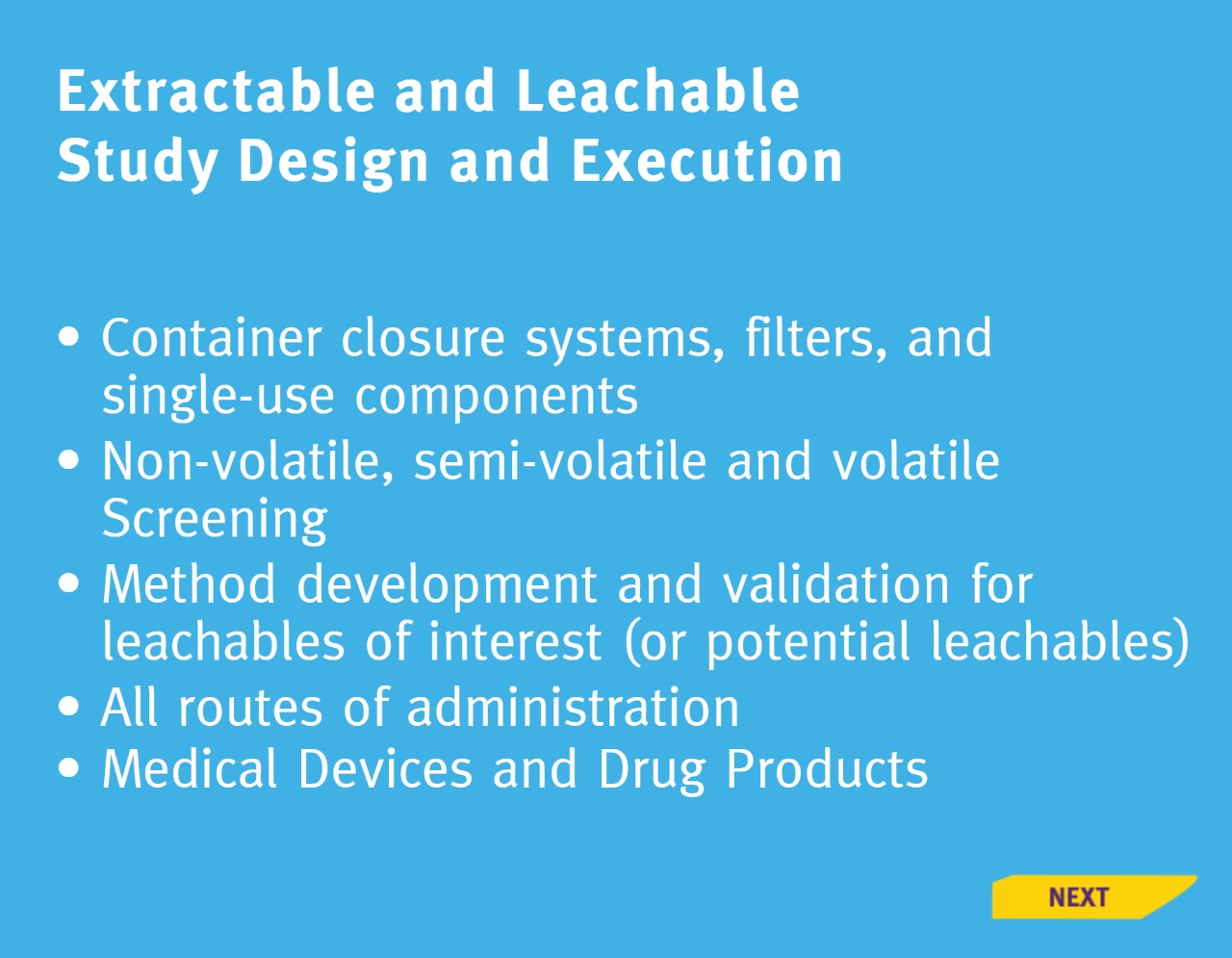 • Container closure systems, filters, and

• Non-volatile, semi-volatile and volatile

• Method development and validation for

• All routes of administration
• Medical Devices and Drug Products
single-use components

Screening

leachables of interest (or potential leachables)
Extractable and Leachable
Study Design and Execution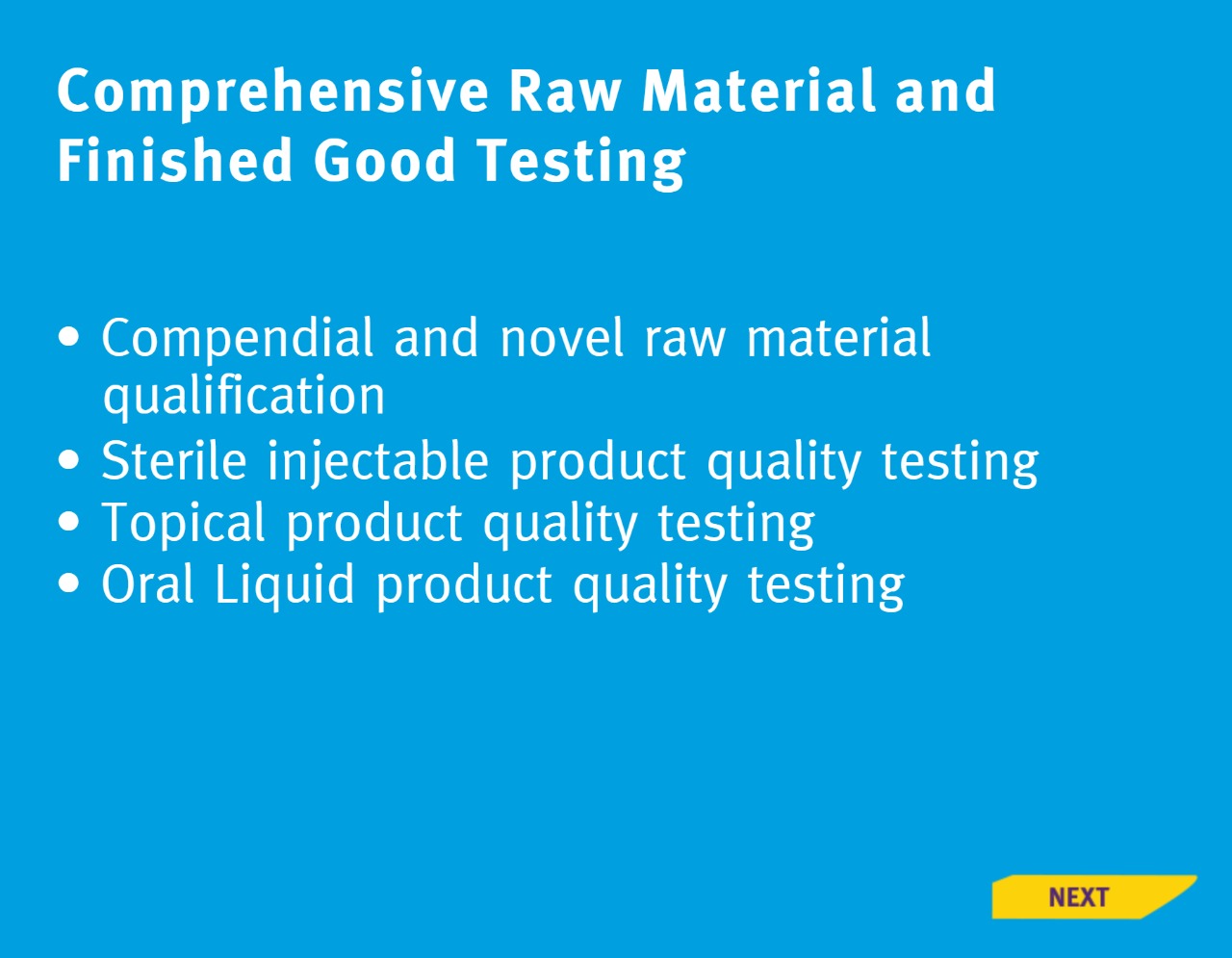 • Compendial and novel raw material

• Sterile injectable product quality testing
• Topical product quality testing
• Oral Liquid product quality testing
qualification
Comprehensive Raw Material and
Finished Good Testing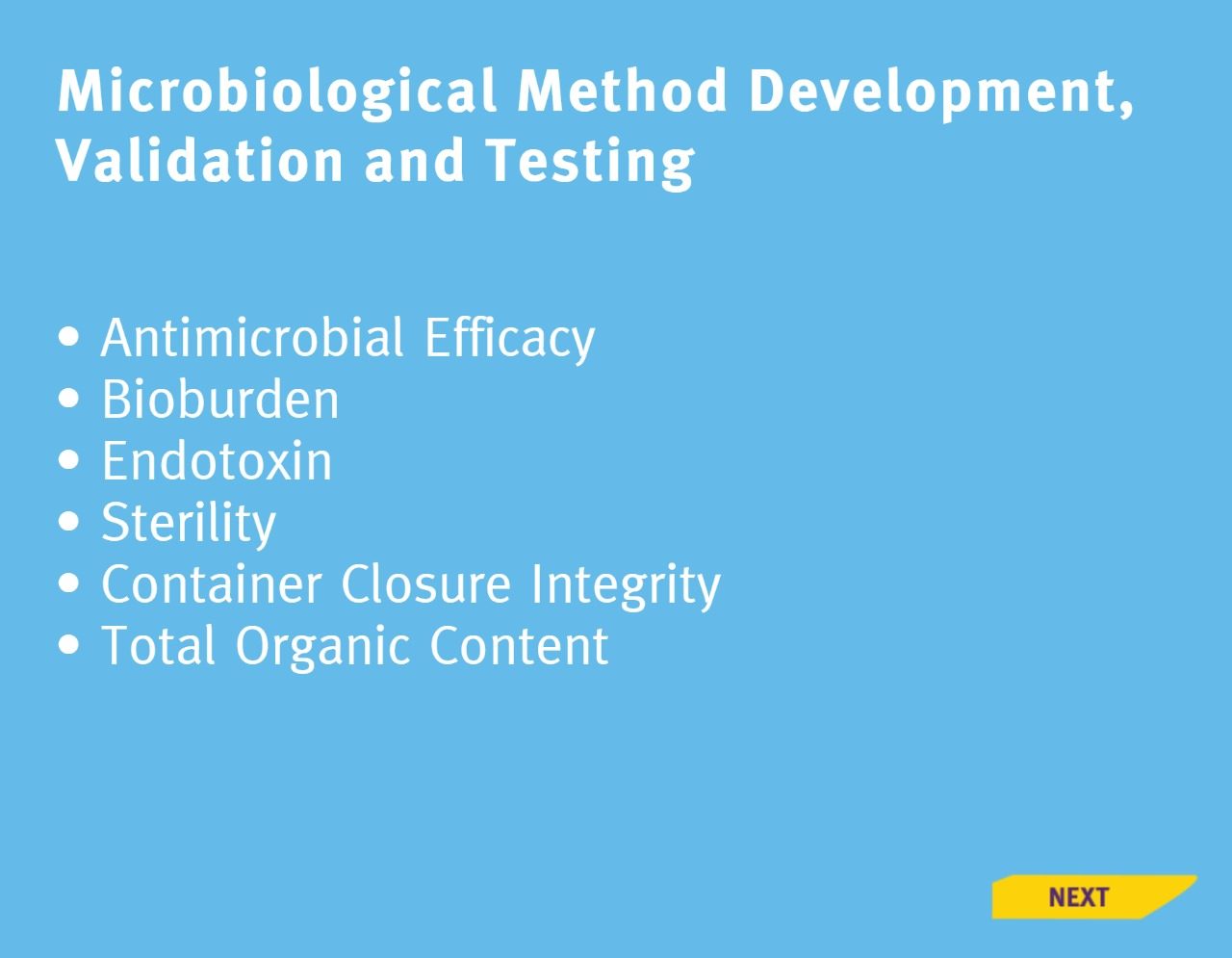 • Antimicrobial Efficacy
• Bioburden
• Endotoxin
• Sterility
• Container Closure Integrity
• Total Organic Content
Microbiological Method Development,
Validation and Testing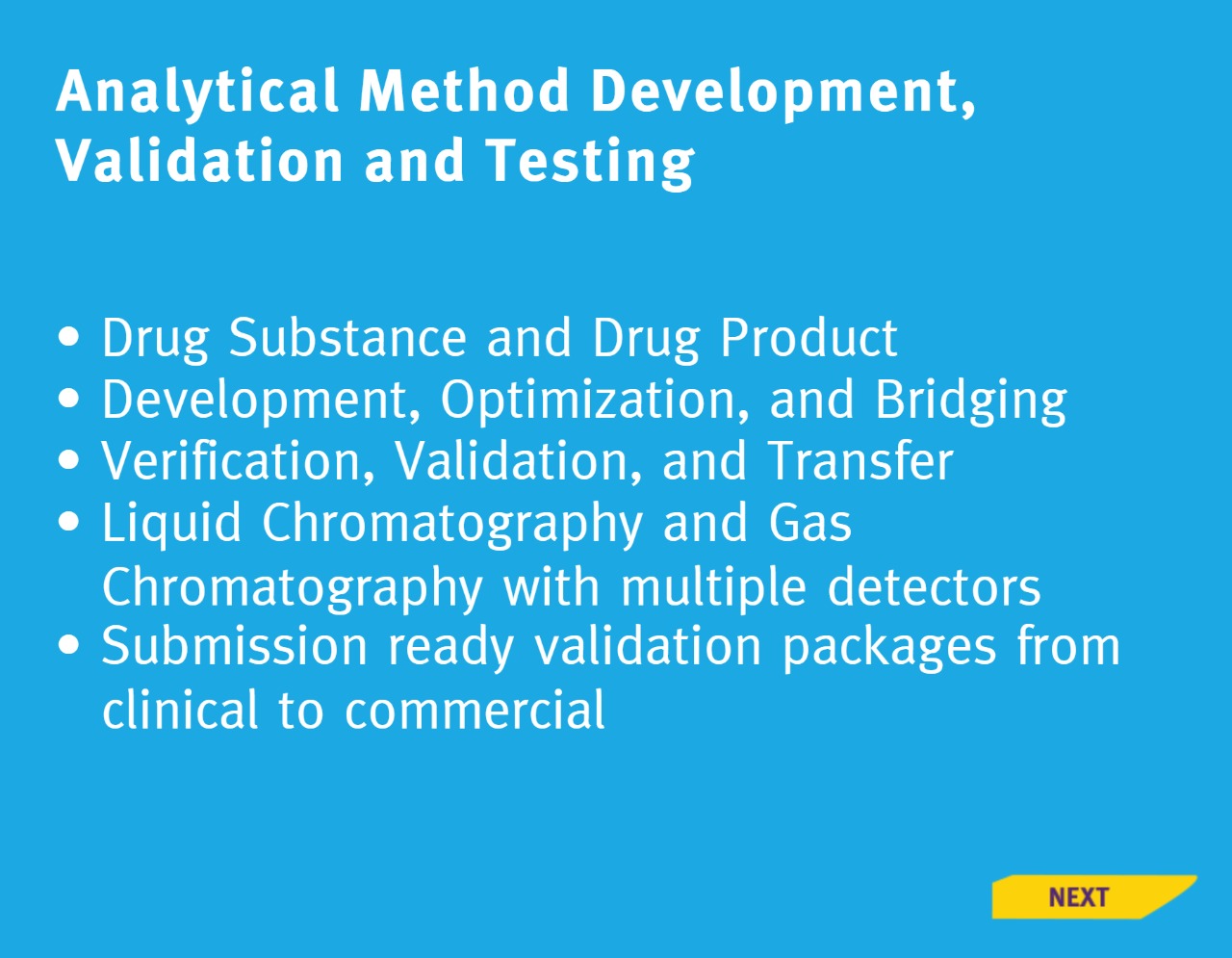 • Drug Substance and Drug Product
• Development, Optimization, and Bridging
• Verification, Validation, and Transfer
• Liquid Chromatography and Gas

• Submission ready validation packages from
Chromatography with multiple detectors

clinical to commercial
Analytical Method Development,
Validation and Testing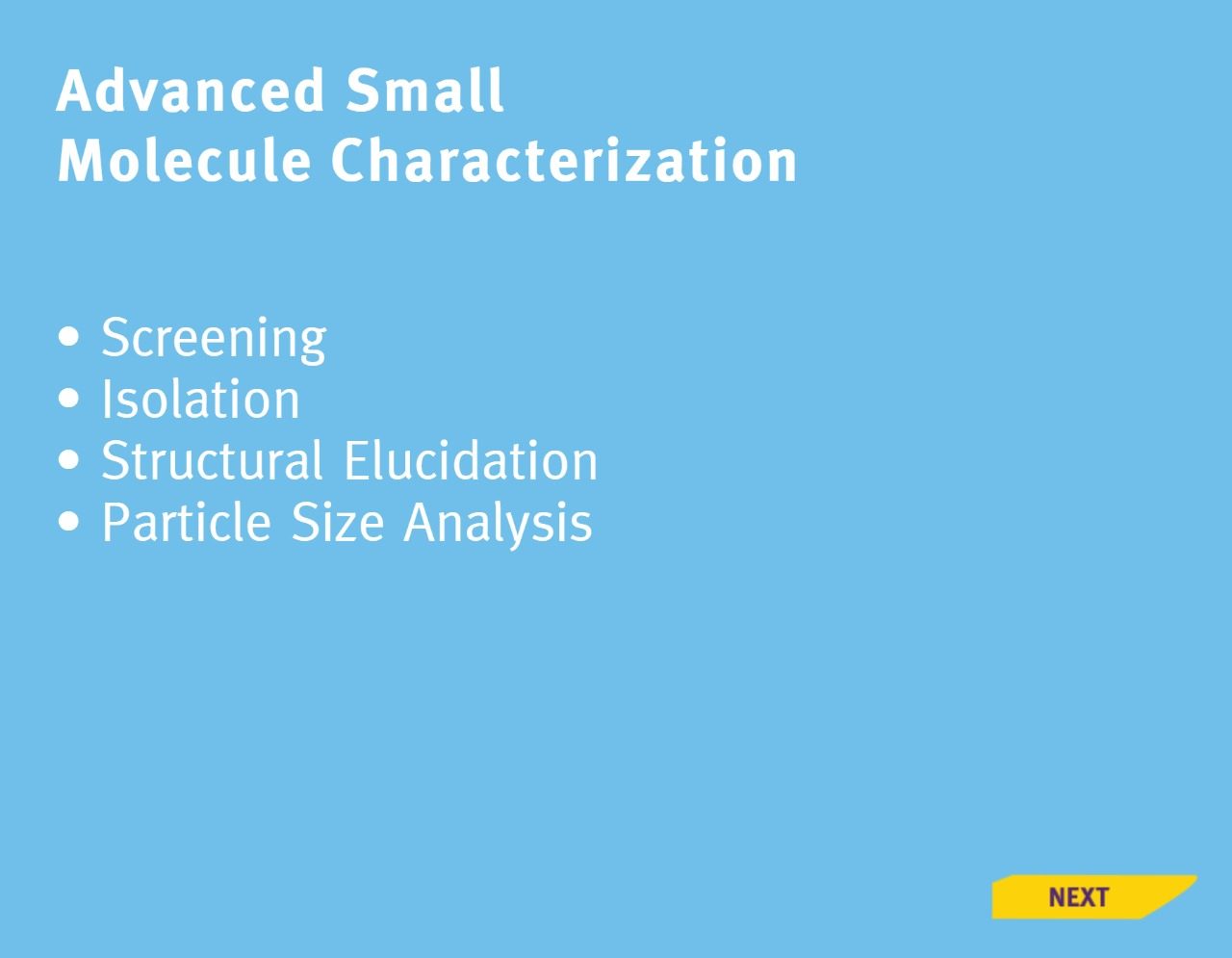 • Screening
• Isolation
• Structural Elucidation
• Particle Size Analysis
Advanced Small
Molecule Characterization