August Expansion Announcement Garners Extensive Media Coverage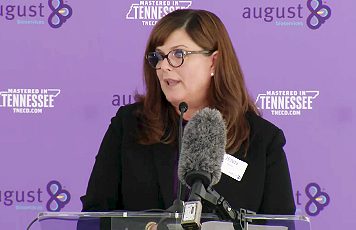 NASHVILLE, Tenn. – August Bioservices, in conjunction with the State of Tennessee's Department of Economic and Community Development, announced plans to expand capabilities within their current facility and to build a 60,000 sq ft state-of-the-art commercial manufacturing facility in Nashville, TN.
The "purple carpet event" was held on November 18, 2020 at August's Nashville headquarters and attracted several influential supporters from across the state.  Notable economic and political leaders in attendance included, Bill Lee, Tennessee Governor; John Cooper, Mayor of the Metropolitan Government of Nashville and Davidson County; Bob Rolfe, Commissioner of the Tennessee Department of Economic and Community Development; Senator Bill Frist; Jeff Yarbro, Tennessee State Senate Minority Leader; and Jeff Syracuse, Nashville Metro Council Member.
"We couldn't be more thrilled about the enthusiastic support we have received from the state of Tennessee," commented Jenn Adams, August Bioservices CEO. "At all levels, public and private, Tennessee has welcomed us with open arms! We're also delighted with the interest and attention we're attracting across numerous media outlets – garnering covering from local CBS, NBC and FOX TV stations, The Tennessean and the Nashville Business Journal, as well as leading industry publications such as Fierce Pharma. Thank you to all for your support of August Bioservices and for helping to get the word out about what we're building here in Nashville!"